Explore the Michelin Star Awarded Restaurants
Restaurant Les Moles
Chef Jeroni Castell, chooses a playful and surprising scenery. He sources local products and also has his own farm. These wonderful foodie offerings come together on marvellous plates, where almost nothing is what it seems. The first Michelin Star was awarded in 2013 and has been maintained ever since. www.lesmoles.com
Restaurant Antic Moli
Chef Vicent Guimará, overflows with creativity and energy. Capable of creating dozens of different dishes around emblematic regional products, he's a great defender of km0 products and ecological seasonal products. Restaurant Antic Moli was granted the first Michelin Star in 2016. www.anticmoli.com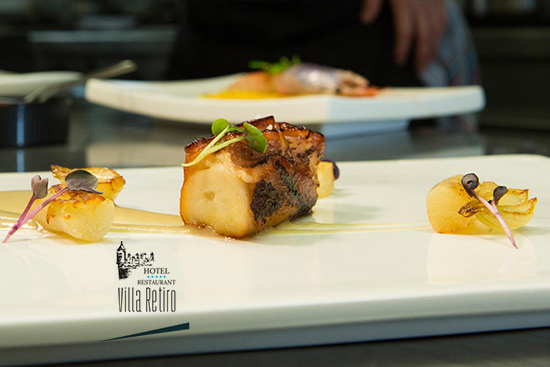 Restaurant Villa Retiro
Chef Fran López, was awarded his first Michelin Star in 2009, when he was just only 24 years old, in fact, he became one of the few Chefs in the world to obtain a Michelin Star at such at a young age. Now he also manages the Xerta Restaurant in Barcelona that also has a Michelin Star. www.hotelvillaretiro.com/restaurante
Restaurant Raúl Resino
Raúl Resino bases his cuisine on local sea products. With a very elaborated technique, he re-invents local sea-sourced dishes and joins then with other very interesting creations, some of which have a Japanese touch. 2016 was his great year for him, he was the winner of Spain Chef of the Year, for which Martin Berasategui, a 3 Michelin Star Chef, was a member of the Jury. The same year he was also awarded his first Michelin Star. www.restauranteraulresino.com
The restaurant picked by the Game of Thrones crew, for their wrap party
Carmen Guillemot
A multifaceted Chef, who is also a painter and an occasional writer, her Cuisine is distinguished by her extensive use of artisan ecological ingredients and for the high degree of in-house production. She bakes her own ecological bread, makes pastas, desserts, ice creams, patés, etc. These days she offers pre-ordered meals for her clientele, who can enjoy the same type of foodie offerings as all of the Game of Thrones, who chose Carmen Guillemot as their desired location for their wrap party (end of filming party). www.carmenguillemot.com
Stay 5 Nights in a Charming Hotel
Cal Naudi
Facing the sea, taking a road from les Cases d'Alcanar, in the town of Ulldecona, there is this charming hotel, ideal to enjoy your weekend, or even more days, surrounded by nature, calm, silence, all kinds of comfort and complete relax.
Cal Naudi is a little charming hotel with 10 rooms: 4 double rooms, 4 junior suites and 2 suites.
Rooms
Bathtub, individual shower, bidet, bath robe, slippers, hair dryer, telephone, minibar, air conditioning, terrace, television.
Hotel
Swimming pool, billiards table, restaurant, living room and an amazing natural spot in the Delta de l'Ebre.
Enjoy the restaurant, based in mediterranean cuisine (breakfast and dinner).